Congrats to Justine Wolf on her PhD defense!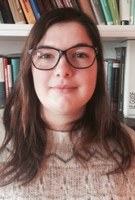 Congrats to Justine Wolf who successfully defended her PhD thesis entitled "Etude biophysique de peptide de la famille du LAH4 - un amplificateur de systèmes de transport de gènes - de l'intéraction peptide-peptide à l'intéraction peptide-membrane" on 20.09.2018 in Strasbourg.

Justine Wolf worked on project A2 "Membrane active polypeptides and liposomal complexes for nucleic acid delivery" under the supervision of Burkhard Bechinger (University of Strasbourg) and Regine Süss (University of Freiburg).
We wish her all the best for her future!