Congrats to Fanuel Mugwanga Keheze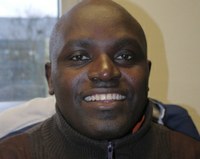 who successfully defended his PhD thesis entitled "The influence of molecular order in single crystals of semiconducting polymer on charge mobility in field effect transistors applications" on 19.04.2018 in Freiburg.
Fanuel Mugwanga Keheze worked as an associated member under the supervision of Prof. Günter Reiter (Universität Freiburg) and Dr. Martin Brinkmann (Université de Strasbourg).

We wish him all the best for his future!