Concepts for the Design of Functional Materials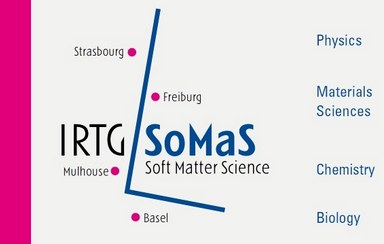 The International Research Training Group (IRTG) "Soft Matter Science: Concepts for the Design of Functional Materials" was an international graduate programme between the universities of Freiburg and Strasbourg (with colleagues from Basel and Mulhouse participating) from October 2010 to September 2019. The IRTG brought together chemists, physicists, biologists and engineers for an interdisciplinary PhD programme in soft matter science, aiming to develop concepts for the design of innovative materials with a high level of functionality. The objective of the IRTG "Soft Matter Science" was to promote graduate education and scientific exchange in the interdisciplinary field of research on soft matter materials. More than 40 scientists from 17 different research institutions worked together in 20 bilateral scientific projects to offer young researchers an interdisciplinary and structured graduate programme which enabled them to successfully compete on the international job market.
Support
The IRTG SoMaS was generously supported by various centers, initiatives and funding agencies: on the German side the IRTG was funded and supported by the Deutsche Forschungsgemeinschaft (DFG), the Albert-Ludwigs-Universität Freiburg, the Freiburger Materialforschungszentrum (FMF) and the Freiburger Zentrum für interaktive Werkstoffe und bioinspirierte Technologien (FIT); on the French side the Université de Strasbourg, the Région Grand Est, the Initiative d'excellence (IdEx), the Centre national de la recherche scientifique (CNRS), the Institut Charles Sadron (ICS) and the Université Haute Alsace in Mulhouse supported for the IRTG; furthermore the IRTG was supported and sponsored by the Université franco-allemande/Deutsch-Französische Hochschule (UFA/DFH) and integrated and supported by the EUCOR/ the European Campus framework, which interconnects the Upper Rhine universities.
We are very grateful for the support and the collaboration during the last nine years!