Congrats to Nehrukumar Mathaiyan on his PhD defense!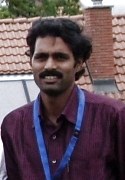 Congrats to Nehrukumar Mathaiyan who successfully defended his PhD thesis entitled "Synthesis of glycolipid building blocks and their application in biorecognition events" on Aug 25, 2017 in Freiburg.

Nehrukumar Mathaiyan worked on Project A2/1 under the supervision of Dr. Stefan Schiller (ZBSA Freiburg), Dr. Carlos Marques (ICS Strasbourg) and Professor Wolfgang Meier (Universität Basel).
We wish him all the best for his future!