Congrats to Andy Kiessling on his PhD defense!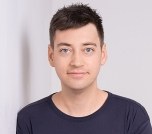 Congrats to Andy Kiessling who successfully defended his PhD thesis entitled "Influence of Nanofillers on the Properties of Polymer Latex Films" on 22.10.2018 in Freiburg. Andy Kiessling worked on project B3 "Influence of nanofillers on the drying and properties of polymer latex films" under the supervision of Eckhard Bartsch (University of Freiburg) and Vincent Le Houérou (University of Strasbourg).
We wish him all the best for his future!