SoMaS Summer School 2016: Scientific Programme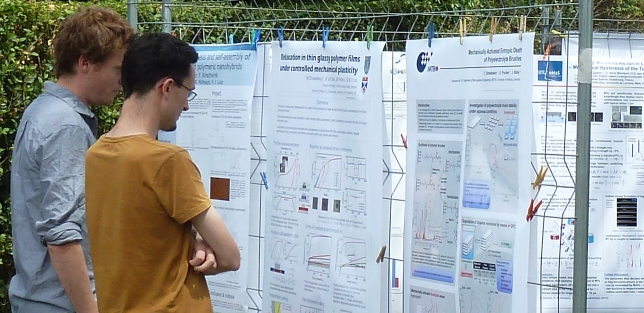 LECTURES, RESEARCH SEMINARS AND TUTORIALS
Every lecture (3 hours altogether) will be illustrated by two research seminars and a tutorial during which the young researchers shall explore the topic more deeply with the lecturer after having gone through his/her lecture.


Opening lecture
Single-molecule transport through nanopores: Ubiquity, challenges, and opportunities

Murugappan Muthukumar, University of Massachusetts, Amherst, MA, USA



Lecture
Self-assembled macromolecular membranes and nanostructures

Min-Hui Li, Chimie ParisTech, Paris, France
♦ Amphiphilic macromolecules for self-assembly into membranes and vesicles
- Inspired by self-assembly principles of small molecular amphiphiles
♦ Synthesis of complex amphiphilic macromolecules
♦ Formation and characterization of polymer vesicles
♦ Functions of polymer vesicles
- Stimuli-responsive polymer vesicles and controlled release
- Bio-imaging
- Micro- and nano-reactors
Research seminars
Nanoparticle and lipid nanodomain insertion in the membrane of large and giant copolymer vesicles
Olivier Sandre, Université de Bordeaux, France

Behavior of polymer membranes
Wolfgang Meier, Universität Basel, Switzerland



Lecture
Tailored self-assembling amphiphilic block copolymers as stable membrane scaffolds for protein based biosensors

Luke Theogarajan, University of California, Santa Barbara, CA, USA

♦ Ion channels
♦ Synthetic polymer membrane
♦ Single molecule biophysics
♦ Automated polymer membrane formation
♦ Polymersomes
♦ Noise in polymer membranes
♦ Protein-membrane interactions
♦ Tailored polymer membranes
♦ Modular synthesis of block copolymers
♦ Click coupling, metal-free click coupling

Research seminars
Membrane stabilization through bilayer interdigitation and its effects on phospholipid vesicle morphology
Andreas Zumbühl, Université de Fribourg, Switzerland

Using polymer membranes for biosensor applications
Justin Rofeh, University of California, Santa Barbara, CA, USA


Lecture
Cells interacting with micro- and nanostructured surfaces
Joachim Rädler, Ludwig-Maximilians-Universität, München, Germany
♦ Physics of polymer-functionalized interfaces
♦ Micro-patterning & self-assembly
♦ Surface guided cell migration

Research seminars
Membrane as matchmaker for cell adhesion
Ana-Suncana Smith, Universität Erlangen, Germany


Multilayers of polyelectrolytes: application in the biomaterial field
Fouzia Boulmedais, Université de Strasbourg, France

All students shall present a poster during the poster sessions. The posters will be put up at the beginning and will be displayed for the whole time of the school. Regarding the poster sessions please send an abstract (one page) presenting the results and the main questions of your research project and the strategies to solve them.The best poster will be awarded.
CAREER PROSPECTS

Career seminar
Time management - How to master your research day and PhD project

Matthias Mayer, Seminare & Coaching, Berlin, Germany
A distinguishing feature of a research career is the unstructured nature of the job. Doctoral students, postdocs, and professors are generally masters of their own time. Although this autonomy can be liberating, it can also result in tremendous inefficiency if one does not develop effective time-management tactics. This short workshop covers the most important techniques of time management to master your research and PhD. You will hear about methods to plan in the long term but also how to structure your daily work. You will learn about an effective method for setting priorities, how to work with maximum concentration and how to leave current time killers behind.
Goals
– Knowing how to plan on three different timely horizons
– Knowing an effective method to set priorities
– Knowing a technique to work with maximum concentration
Content
Fundamental requirements for good time management in research
– Working with clear (smart) goals
– Planning time realistically: master plan, weekly and daily planning
– Setting priorities (Eisenhower technique, Pareto principle)
– Getting rid of time-killers
– Working with maximum concentration: silent hour & the Pomodoro technique
Methods
Trainer input, individual, partner, and group work; guided sequences in which
participants can develop inner images; group reflection.